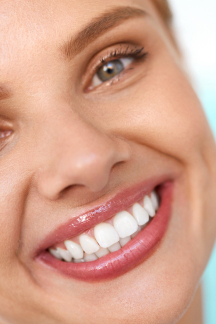 Rachel is a loving mother of two teenagers and is active in her local church. People know Rachel as friendly but a bit shy and timid. In the latest photograph at her children's school, she is seen with her two smiling kids, but something is missing on Rachel, her smile. You see, Rachel has always been very embarrassed about her teeth. They were a bit crooked and misshaped and were a bit yellow.  If you look at Christmas cards from the family, or vacation or wedding photos, what you will see is that Rachel never shows her teeth when she smiles. Some people have interpreted this as Rachel being rude, stuck-up or just not being interested in what they were saying.
What people didn't understand is that Rachel is hurting inside. She wants to laugh and smile but she is so insecure that she lacks the confidence to have fun and interact with people. You see, when Rachel was younger, kids would tease her because of her teeth. Her husband Brian had heard that Advances in Dentistry was voted the favorite dental office for cosmetic dentistry by The 405 (magazine) so he called and asked how they could help Rachel overcome her smile insecurities.
Advances in Dentistry scheduled Rachel for a no-charge consultation to come in and sit down with Dr. Rhodes so she could explain what her dental concerns were. At that consultation appointment, Dr. Rhodes explained that porcelain veneers could change the size, shape and color of teeth in as little as two appointments. Dr. Rhodes also explained there were also a number of other cosmetic dental services such as clear aligners, like Invisalign, that could straighten her teeth after wearing the removable aligners for just a few months. Additionally, Dr. Rhodes explained that professional teeth whitening was a very quick and affordable way to lighten the color of teeth.
Rachel was very interested in porcelain veneers because of how quickly she could get the smile she always dreamed of. Advances in Dentistry showed Rachel a simulation photograph of how she could look with porcelain veneers. Rachel could not believe her eyes! She said she looked so much younger and happier.
Rachel had the porcelain veneers done at Advances in Dentistry the very next week. When Rachel came back for the appointment to bond the veneers to her teeth she was a little nervous. Dr. Rhodes bonded them to her teeth and then handed Rachel a mirror and simply said, "What do you think?" Rachel, smiled so big, she couldn't believe her eyes. Tears started to roll down her face and she said "Oh my gosh, I love it! I should have done this years ago!"
When she got home, Brian asked her how her dental appointment went. Rachel looked at Brian and just smiled big. Brian said, "Oh my, your smile is beautiful, you're beautiful!" If you see their latest Christmas card, Rachel is front and center, smiling big. Brian says, "She is so much happier now, she smiles and laughs, it's like she is a new person!"
Cosmetic dentistry from Advances in Dentistry has changed the lives of thousands of people like you. Do you think you would benefit from cosmetic dentistry from Advances in Dentistry? Ask yourself;
Are you happy with your smile?
Are you sometimes embarrassed to smile?
Do you try not to show your teeth when you smile or laugh?
Do you wish your teeth were straighter?
Do you wish your teeth were whiter?
Do you have chips or cracks in your teeth?
If you answered yes to any of these questions then cosmetic dentistry from Advances in Dentistry could be the answer for you.
Here are some frequently asked questions about cosmetic dentistry:
Q: What are porcelain veneers?
A: Porcelain veneers are a very thin, custom-made porcelain facing that is fitted and bonded to the front of a tooth to give it a better appearance.
Q: What is the cost of porcelain veneers?
A: The cost of porcelain veneers varies depending on what type of veneer is used and how many teeth will receive porcelain veneers. We offer a no-charge consultation so we can see your teeth and answer your questions. Typically, after we see you we can give you an exact cost to achieve the smile you want.
Q: How long does Invisalign or clear aligners take to straighten my teeth?
A: That varies depending on how much crowding or spacing there is with your teeth. The average case is around 10 months. We have corrected simple spacing of teeth in as little as two months and severe crowding can take over a year.
Q: What is the cost for Invisalign or teeth straightening?
A: The cost of teeth straightening depends on the length of treatment. Cases that are just a few months are less of an expense than severely crowded teeth. In general, the overall cost for teeth straightening has come down significantly over the last few years.
Cosmetic dentistry is an art and it takes a special touch and expertise to create a beautiful smile. Since 1994, Advances in Dentistry has led the way with the latest cosmetic dentistry techniques, treating many prominent TV and radio personalities. Call them today at 405-751-6996 and ask for your no-charge consultation and free before-and-after simulation photograph to see how great you would look with porcelain veneers!
All content is the property of Dr. Corbyn Rhodes.  All Rights Reserved.