If you want a long-lasting option to replace missing teeth, Advances in Dentistry offers dental implants that cater to your personal needs. We can replace one tooth, multiple teeth or even a mouthful of missing teeth with dental implants in Oklahoma City, Oklahoma. Contact us today for a free consultation (limited availability) to see if you are a candidate for dental implants from Advances in Dentistry!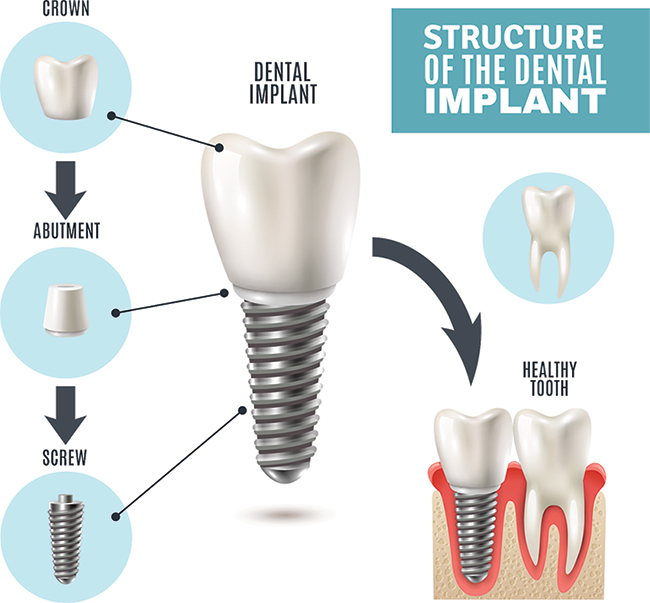 Single-Tooth Implants
In addition to looking like a natural tooth, a dental implant can give the same function as a natural tooth, allowing you to eat with confidence. The implant is placed in the bone where the missing tooth was.
After the implant has locked into the bone, you will return for the next appointment where we place a "head" on the implant called an abutment. Your new crown, or cap (as some people call it), will then be fabricated to be placed over the abutment. With this solution, nothing is removable. The implant and crown stay in your mouth and blend right in with your remaining teeth.
This procedure typically is done in three appointments:
Placement of the implant
Placement of the abutment
Placement of the crown
Multiple-Teeth Implants
When multiple missing teeth are missing, single-tooth implants can be used to replace the missing teeth. If lack of bone or budget concerns affect the number of implants that can be placed, implant bridges may be the solution. Implant bridges may have two implants placed. One implant is placed where the first tooth is missing, and the second implant is placed where the back tooth is missing. After the implants are placed, abutments are placed on the implants, and a bridge is fabricated and bonded to the implants. Implant bridges stay in the mouth and do not move or come out. Depending on how many teeth are missing, multiple implant bridges may be used for strength and stability.
All Missing Teeth
If you are missing all of your teeth in the upper or lower jaw or both, then implant-retained dentures from Advances in Dentistry could be the solution for you. Typically, four implants are placed, and your existing denture or a new denture is fabricated that will "snap in." Advances in Dentistry was one of the first dental offices in the state of Oklahoma to routinely place implant-supported, or "snap-in," dentures. This has been a major life-changing event for many people. If you have difficulty eating the foods you want, or your dentures are loose and rubbing, then "snap-in" dentures from Advances in Dentistry may be the solution for you.
At Advances in Dentistry, we have the skill, expertise and experience to help you replace missing teeth with dental implants. Our goal is to make you happy! Give us a call today at 405-751-6996 and ask for a free consultation (limited availability) to see how our dentists can help you with dental implants.