If you are having a toothache or dental pain, contact us—we have same-day appointments available. At Advances in Dentistry, Dr. Corbyn Rhodes and Dr. Angela Windsor can get rid of your tooth pain in a matter of minutes. Don't wait or put it off any longer! Tooth pain typically gets worse with time.
Tooth pain is very serious and can lead to major consequences like infection, swelling and a possible emergency room visit. Most dental infections are caused by bacteria that gets into the nerve of the tooth and then spreads. This bacteria can enter your bloodstream and lead to other issues like heart and arterial problems.
Is your tooth:
Chipped or broken?
Sensitive to cold or heat?
Sensitive when you bite?
Constantly throbbing or hurting?
Causing swelling around your face or jaw?
If you answered "yes" to one or more of these questions, then call us right away! Dr. Corbyn Rhodes or Dr. Angela Windsor can see you as soon as possible

If your tooth is chipped or broken but not hurting it may be able to be repaired with a filling or a crown, depending on how severe the chip or break is. The picture shows a tooth that is broken with an old silver/mercury filling. Typically these teeth can be restored with a tooth-colored crown.
Learn More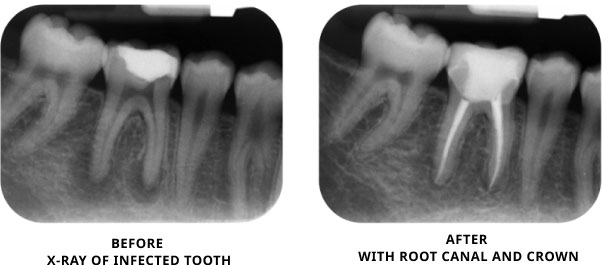 A constantly hurting or throbbing tooth or swelling in the face could indicate that the tooth is infected. An infected tooth can become very serious and time is of the essence. A root canal or an extraction may be required. The before x-rays show a tooth with infection (abscess) at the bottom of the roots. The after x-ray shows the tooth pain-free and repaired with a root canal and crown.
Learn More
Dr. Corbyn Rhodes and Dr. Angela Windsor in Oklahoma City, Oklahoma have extensive training and expertise in treating dental pain. At Advances in Dentistry, we understand your dental pain and we are extremely gentle and caring. If you are looking for a dentist near you, call us now; we have immediate appointments available. If you are nervous about seeing a dentist we understand. That is why we offer laughing gas to help you relax or Sedation Dentistry so you can sleep while we fix your tooth.
Contact us now at 405-751-6996 and we will get you out of pain and treat your dental emergency.