Many patients are choosing to correct their crooked teeth with clear aligners over traditional braces! Advantages of clear aligners include:
Nearly invisible appliances
No restrictions on what you can eat
No problems for flossing or brushing
Controlled single-tooth movement
Options for remote monitoring

Comfortable
Clear aligners provide more comfort than traditional wires and brackets.


Removable
The aligners can be removed whenever you like for eating, brushing and flossing. There are no wires or brackets to trap food.


Discreet
Your smile will look completely natural! Most people will not notice you are wearing aligners at all.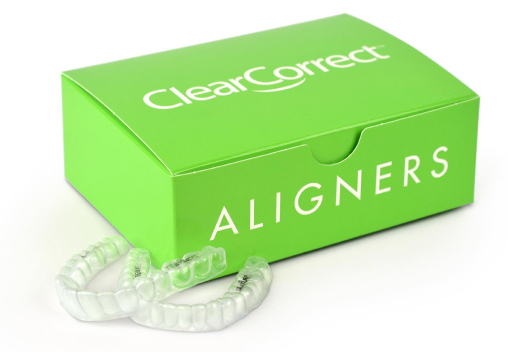 CLEAR
ClearCorrect's aligners are made from premium crack and stain-resistant polyurethane and feature a high trimline for stronger retention
SIMPLE
For treatment of any length, pay by the aligner with Flex or choose one low fee for five full years of unlimited aligners and retainers
Wondering if you would be a good candidate for Invisalign® or ClearCorrect aligners in Oklahoma City, Oklahoma? We can help! Dr. Windsor and Dr. Rhodes are accepting new patients and would love to meet you. Our friendly front desk staff can help schedule a consultation appointment when you call today at 405-751-6996!
Invisalign
As another aligner option for our patients here at Advances in Dentistry, Invisalign® treatment is a stress-free solution to crowed, crooked or gapped teeth. These clear aligners will slowly straighten your teeth into a smile to grin about! To make an appointment with one of our dentists, Dr. Corbyn Rhodes or Dr. Angela Windsor, call 405-751-6996 and learn more about Invisalign aligners in the Oklahoma City, Oklahoma, area!