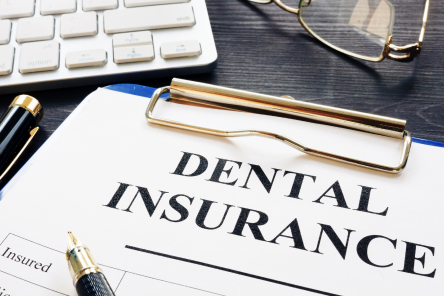 Delta Dental, HealthChoice, Metlife, Cigna, Aetna, Guardian, Blue Cross-Blue Shield, Humana, United Health Care, GEHA, Carrington, Principal. These are all different dental insurance companies. It can be overwhelming thinking about dental insurance. What is the deductible, what is LCAT, what is a UCR, what is my copay? These are just a few questions that some
people have. At Advances in Dentistry, we have over 25 years of experience dealing with dental insurance. We handle contacting your insurance company and filling out all the paperwork and forms. We utilize an electronic filing system that enables your claims to get to the "front of the line" and get paid quicker. We can help you take advantage of all the dental insurance benefits
you have.
A common question we hear is; "Is all dental insurance the same?" The answer is "No". Dental insurance began around 1954 and the yearly maximum benefit was $1,000. Here we are 65 years in the future and that same $1,000 maximum is true for many dental insurance plans. In 1954 the average cost of a movie ticket was 55 cents, a gallon of gas was 22 cents and a stamp was 3 cents. You can do the math and see how far behind most dental insurance benefits lag. Dental Insurance usually only pays a portion for a specific procedure. But, that portion may vary for each dental insurance plan. One plan may pay a very large portion of the cost of a dental procedure while another plan may pay a very low portion or even nothing for the same procedure. How can this be? Great question! Just like choosing a restaurant to eat at or what type of car to buy the cost will vary greatly.
Usually, a nicer restaurant or a car with more features will cost more and the same is true with dental insurance. Some employers may want to cut costs and choose a discount plan. The plan may not have the same benefits as another plan or allow the employees to see the dentist of their choice. The employee may think, I have dental insurance, it's all the same. What they don't realize is the plan is not as good as their old plan. An analogy would be, they were used to eating at a nice sit-down restaurant now they are eating from the drive-thru lane. Many health insurance companies in an attempt to gain more business started offering a dental plan at no additional cost if the employer purchased their health insurance plan. Needless to say, if you're getting a dental plan at no additional cost there is a good chance it may not have as good of a benefit as you would desire
Frequently Asked Questions:
Q: What is a calendar year maximum?
That is the amount of benefits, in dollars, your insurance company will pay for your dental care within the plan's Calendar year. Most calendar years run from January 1st thru December 31.
Q: What if I don't use my dental benefits this year, will they carry over to next year?
As the old saying goes, "Use it or Lose it." Typically, any unused benefits for a calendar year will not accumulate or add to the following year.
Q: Why does my dental Insurance pay different percentages?
Most dental insurance plans like Delta Dental, HealthChoice, Cigna and many others pay different percentages for different services. Preventive services like checkups, cleanings and X-rays are usually covered at a higher percentage. Other services like fillings, root canals and tooth extractions are considered "basic" services and are paid at a lower percentage than the preventive services. Dental insurance plans usually consider crowns, partial and full dentures as "major" services and usually cover these at a lower percentage than the "basic" services. Typically, the higher the cost of the treatment, the lower the percentage of the cost the insurance will pay.
Q: What is a UCR?
In dentistry, UCR stands for Usual and Customary Repair. It is a fee that the insurance company states they will allow and base their percentage of payment from. Typically the dentist has no say in what this fee is. The UCR varies for each insurance company. Even the same insurance company that offers different plans may have different UCR's with each plan. Typically the better the plan the higher their UCR will be.
Q: What does LCAT mean?
LCAT stands for Least expensive, Clinically Acceptable Treatment. LCAT is a term that many dental insurance plans use in deciding which procedure to cover and which procedures not to cover. In medicine, you might see this in the following manner:
The insurance company wouldn't pay for the rotator cuff surgery but they would pay for a steroid injection, even though the doctor said the surgery would be better. The doctor does the steroid injection but it only helps for a short while. LCAT would be the steroid injection. This was the least expensive clinically acceptable treatment and what the insurance only wanted to pay for.
Q: Why is a particular dentist not an "in-network" provider?
Most dentists strive to provide a high quality of care and a great experience to their patients. Many do this by using only the highest quality materials, having the most modern, high tech equipment, employing highly trained staff with decades of experience and not making patients wait to be seen. Many dentists have decades of experience and simply may not want to feel rushed or see as many patients as a newly graduated, less experienced dentist. Some dentists find that being an "in-network" provider for certain dental insurance companies leads to crowded waiting rooms, weeks to get an appointment, little time to spend with their patients and not being able to do the procedures which they believe would be in the patients best interest. They state that many of their patients felt frustrated and like they were just a number. Some dentists feel that they have to see too many patients a day to make ends meet. Many state that they cannot afford to buy better equipment or supplies or use a quality laboratory. One dentist put it plainly, " it was all about running patients in and out like cattle, I am not a rancher, I am a dentist."
Q: Is Cosmetic Dentistry covered by my dental insurance?
The answer is; it depends. Let's say that someone's front teeth have no cavities but they don't like how they look because they are yellow and misaligned. This person wants to have porcelain veneers or crowns placed on the teeth to have that instant smile makeover. Typically, most dental insurance companies would not pay for that procedure since it is considered cosmetic dentistry and is an elective procedure. Now let's say that another person had crowns on their front teeth for 7 or more years that were chipped and developed cavities at the gum line. Typically, most dental insurance companies would pay their portion to replace the old crowns. Remember, they only pay up to their maximum benefits for that calendar year.
Of course, the information provided here are examples and typical situations that we have experienced. The best way to find out how your dental insurance plan covers cosmetic dentistry, veneers, implants, crowns, root canals, cleanings and orthodontics like Invisalign is to contact an insurance specialist at Advances in Dentistry. They would be happy to help you get the maximum benefit from your dental insurance. It doesn't matter if you have Delta Dental, HealthChoice, Cigna, Guardian, Aetna, Principal or any other dental insurance they can help you get the maximum benefit and handle all the paperwork for your dental insurance.
All content Copyright Corbyn Rhodes, D.D.S. all rights reserved