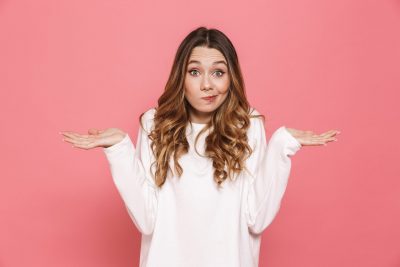 Most people are not born with that perfect smile, so many people choose cosmetic dentistry in OKC to help them achieve the smile of their dreams. We get a lot of questions here at Advances in Dentistry from people in Oklahoma City asking, "Should I do  Veneers or Invisalign®?" What Dr. Rhodes will ask is "Do you like the size, shape and color of your teeth?" The reason for this question is simple, but of the utmost importance to helping you achieve your dream smile.
If you are not happy with the size, shape and color of your teeth, or have issues with chipped or worn teeth, then porcelain veneers may be the solution for you. With veneers, we can change the size, shape and color of your teeth in a single procedure. If you've seen some celebrities with that perfect smile there is a good chance that they have porcelain veneers. Veneers are a thin layer of custom fabricated porcelain that is bonded to the front of your tooth, giving you that straight, white smile. The process of dental veneers is quite simple here at Advances in Dentistry.
First, call us for a No-Charge Consultation appointment. You can meet with Dr. Rhodes or Dr. Windsor and tell them what you would like to change about your teeth. Dr. Rhodes or Dr. Windsor can then let you know about all of our cosmetic dentistry options in Oklahoma City. You can even see your new smile before veneers with a complimentary before and after digital cosmetic simulation photograph. This is a great way to see how you could look with veneers and cosmetic dentistry. If you would like to proceed with achieving your new smile with veneers, we will prepare your teeth for the veneers in one appointment and then you would return in 7-14 days after your custom veneers are fabricated so we place them onto your teeth. That's it, just two appointments and you will have a smile makeover!
So, to recap, the advantages of cosmetic dentistry with porcelain veneers are that we can change the size, shape and color of your teeth in only two appointments. When our patients look in the mirror for the first time after their veneers are placed many will tear up and say "Wow, I should have done this years ago," or "My smile looks amazing". When choosing a cosmetic dentist in OKC to do veneers experience counts. Cosmetic dentistry is an art and it takes a special skill to achieve superior results. Dr. Rhodes has been doing veneers for 27 years and has done thousands of veneers with amazing results with people here in Oklahoma City. You have probably seen some of his work on some prominent TV and radio personalities in OKC. He was even voted Favorite Cosmetic Dentist in OKC by the 405 Magazine.
With Invisalign® or other clear aligners such as ClearCorrect, we can move and realign your teeth. So, if you like the size, shape and color of your teeth but they are just misaligned or have spaces and gaps or if your teeth are crooked and crowded, then Invisalign or ClearCorrect may be an excellent choice for you. If you choose Invisalign or ClearCorrect we simply start off by taking a couple of "molds" of your teeth and a few photographs. Dr. Rhodes or Dr. Windsor will then complete a detailed prescription of the improvements they would like to make to your teeth.
In a couple of weeks, we will have a computerized digital replication of your teeth and a computer animation of how your teeth will be straightened. This will show us the length of time it will take to achieve your new smile. We will review this and make any necessary changes and then your aligners will be custom fabricated utilizing modern technology. We will have you come back to show you how your new smile will look and fit your new aligners. When people see the computer animation of their teeth being straightened, they are amazed.
With Invisalign® or ClearCorrect, most cases can be treated within 3-14 months depending on how much straightening is required. After the treatment is completed, you will need to wear a clear retainer at night for a while so your teeth stay in the correct position. So, to recap, with Invisalign or ClearCorrect we can straighten your teeth to a more ideal position. It will take a few months to over a year to complete the process, and you will come in periodically during that time for us to make adjustments and deliver additional aligners. You will then wear clear retainers at night for a while to keep your teeth straight. Dr. Rhodes has been doing clear aligner treatment like Invisalign and ClearCorrect in OKC for around 20 years. He was one of the first Invisalign dentists in OKC.
"What is the cost for veneers?" Or "What is the cost for Invisalign®?" is what a lot of people ask. The answer is "It depends". Obviously, with veneers, it depends on how many teeth are treated with the veneers. With Invisalign or ClearCorrect it depends on how long the treatment takes. This varies for every person depending on how severe the crowding or spacing is. When you meet with Dr. Rhodes or Dr. Windsor and they see your teeth and understand your goals we can let you know what the cost would be. On average it is a few thousand dollars and many people will use our interest-free payment plan.
Cosmetic dentistry has come a long way over the years. We are achieving results that are truly life-changing for many people. People who were embarrassed to smile or laugh have regained their confidence and happiness with cosmetic dentistry like veneers and Invisalign® at Advances in Dentistry in OKC. If you are looking for a cosmetic dentist in OKC for Veneers or Invisalign we would love to meet you. Contact us today to schedule your No-Charge consultation and receive your complimentary before and after simulation photo.
All content is Property of Advances in Dentistry. All Rights Reserved